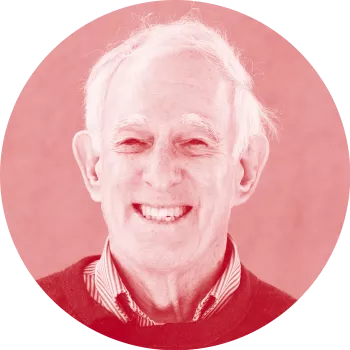 I wanted my own place, and having the opportunity to move here, and seeing that this was mine, made a tremendous difference in my feelings, my attitude, my outlook towards my life.
•
 
Before finding his current home through the LA ADU Accelerator Program, Ira had spent three years living with friends, an experience he describes as "a real hardship." It was difficult for him "just trying to locate [housing] and not being in anybody's way, having to look on Craigslist or this list or that list, and you know, being at the whim and will of a lot of other people."
Ira, a former accountant —and resident of Los Angeles for more than 50 years — had been seeking stable and affordable housing for a long time, but he continually encountered barriers. "I was extremely motivated. I wanted my own space, my own place. Getting it, though, was very difficult. With everything that goes into it, including the costs, it wore me out." 
Ira found the LA ADU Accelerator Program after calling ONEGeneration and speaking with Veronica, the center's Housing Navigator. Veronica was very receptive to what Ira describes as his "tale of woes," and said that she would do everything she could to help him. After determining that Ira may be a good match for Lina, a homeowner participating in the LA ADU Accelerator Program, Veronica introduced the pair. The match was a success, and Ira moved into Lina's ADU a few weeks later.
While Ira thought that he and Lina would get along, he never expected that they would form such a strong bond. He considers Lina more like family than simply a landlord. On many occasions, Lina has assisted Ira with household tasks such as unloading his groceries. 
"Certainly, I don't want to infringe on their lives and vice versa, but they have been so nice to me," Ira says. "On many occasions, [Lina's family] has  come over, or called me and said, 'Have you eaten dinner?' or 'Would you like dessert tonight?' And whatever it is, they have brought it over." 
Apart from his new home and friendship with Lina, Ira says he has gained many other benefits from participating in the LA ADU Accelerator Program — benefits that he "never thought would be coming to [him]," such as access to grocery vouchers and cleaning services. The assistance he's received from ONEGeneration's staff has made him feel supported and cared for.
"Veronica is always making sure that I'm happy, which is very nice," Ira says "And with all the donations that [ONEGeneration] has offered, it makes it feel like this world is in a better place than the other way, where nobody looks after each other and you don't care about anybody else. ONEGeneration certainly has done whatever needed to be done to make me feel happy and content about this."
Ira says that the LA ADU Accelerator Program has not only made his housing journey "much easier," but it has also changed his perspective on his life. He calls his new home and his relationship with Lina "a treasure."
Both have given him a sense of "freedom" and taken away the stress that comes with having to search for housing day after day, Ira says.
"I wanted my own place, and having the opportunity to move here, and seeing that this was mine, made a tremendous difference in my feelings, my attitude, my outlook towards my life."